The Portrait of a Superintendent
Topics:
Advocacy & Policy, District & School Operations
April 11, 2023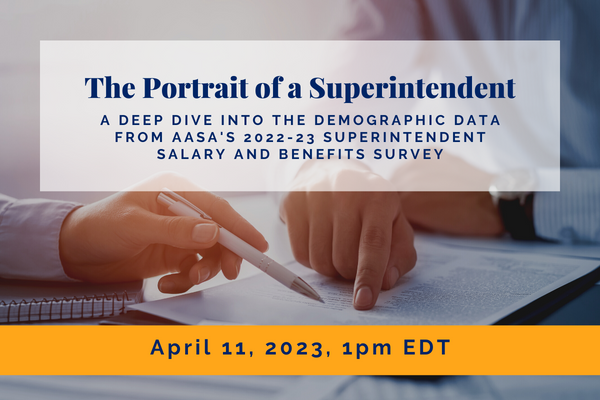 The 2022-23 Superintendent Salary and Benefit Survey marked 11 years of AASA collecting critical demographic data and compensation trends for superintendents. Our longstanding commitment now allows us to make 10-year comparisons to see where progress has occurred and what else needs to be done.

Join us for a deeper dive into the data and a conversation on the state of diversity in the superintendency with a panel of experts including Chris Tienken, AASA research professor in residence, Gladys Cruz, AASA president-elect and district superintendent of Questar III BOCES, Shawn Joseph, AASA Urban Superintendents Academy co-lead and assistant professor, educational leadership and policy studies, Howard University, and Rachel White, assistant professor, Department of Educational Leadership & Policy Studies, University of Tennessee.

This is the first of two webinars on the 2022-23 Superintendent Salary and Benefits Survey. Register for the next webinar, Tips for Negotiating or Renegotiating Your Contract, on April 19 at 1pm EDT here.