A Research Base for Exploration at Our Early Learners Academy
Topics:
Early Learning, School Administrator Magazine
January 01, 2021
Imagine a preschool where lifelike murals of a dinosaur, sea creatures and an arctic wolf cover the walls and children crawl through an igloo or board a submarine to learn about the ocean.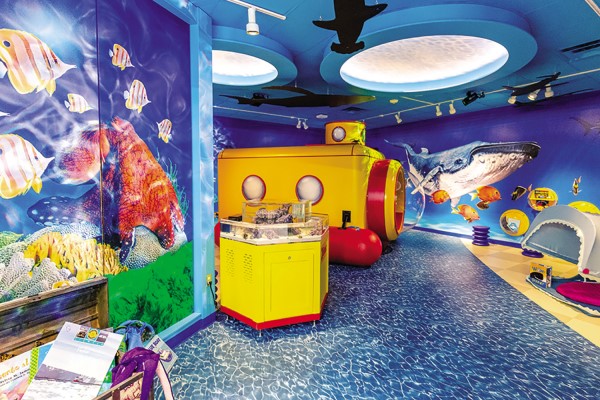 Colorful murals enliven the walls of the Dr. Sarah K. Jandrucko Academy for Early Learning located in the
Mansfield, Texas, Independent School District
In Mansfield, Texas, 30 miles south of Dallas, the Dr. Sarah K. Jandrucko Academy for Early Learners opened in January 2019 and quickly became a joyful campus where children, through play, develop relationships, explore and learn.
In reviewing the research, we found that best practices for early learning support the need for both explicit instruction and an "experience" that provides the essential back-ground knowledge, language and vocabulary development essential for future academic success — namely, learning to read.
Pedagogical Marriage
The academy is perfectly designed with the young learner in mind. Instead of classrooms, our program features 16 distinct experiences within four pods that allow children to navigate, explore and investigate sundry places — the ocean, outer space, the zoo, the savannah and a shopping market. These experiences allow our youngest learners, ages 3-4, to gain literacy and numeracy skills while building background knowledge of the world around them.
The pedagogical marriage between the "how" (play-based, hands-on, multisensory) and the "what" (explicit literacy and numeracy instruction delivered through an "experience" that builds background knowledge rich in science and social studies) is what defines the teaching and learning taking place at the academy.
Experiences are the game changer for young learners. Experiences are how we build background knowledge and language/vocabulary. The academy offers these experiences to students to eliminate the discrepancy between the children from economically disadvantaged homes and those who are not.
The 500 children attending our academy come from both low-income families and families paying tuition (90 percent qualifying/10 percent tuition). Early learners are automatically admitted if they qualify under the state's criterion to attend pre-K for free and live in the feeder pattern/attendance zone. Approximately 30 slots are held for students who do not qualify and pay tuition. These slots are determined via a random lottery.
Outside Visitors
After six months in the academy, students whose school readiness had been lagging demonstrated stronger academic and social-emotional skills, according to assessment results of the CIRCLE Progress Monitoring System (pre-K) tool. As preliminary data began to show significant gains in the areas of emergent literacy, language and vocabulary, numeracy and social-emotional development, the Mansfield district partnered with Tarleton State University to complete a comprehensive longitudinal study to track students through 3rd grade. This research, begun in 2019-20, was interrupted by the pandemic shutdowns last spring.
Ideally, we would love for every pre-K student in Mansfield to access the same type of learning facility. Most pre-K classrooms, in our community and elsewhere, do not come equipped with a life-size spaceship or a submarine. However, the curriculum, instructional materials/resources, professional development and coaching are the same — at the academy and in traditional pre-K classrooms on our 23 elementary campuses. We believe the instructional design of our academy for early learners can be successfully replicated in pre-K classrooms anywhere.
The academy opens its doors monthly to host on-site professional development and learning tours. Before the pandemic-forced shutdown, we were averaging 40-50 visitors a month. Many enter the facility expecting to be impressed with the building itself but leave impressed with the learning. We want to challenge visitors' views surrounding early childhood education.
In the end, it is the children whom they remember. Months later, one visitor could recall that a 4-year-old had explained to her that the animal pictured on the mural was not just a wolf but an Arctic wolf. She smiled in wonder.

(A short YouTube video offers an inside look at the Sarah K. Jandrucko Academy for Early Learners.)
KRISTI COBB is the executive director of elementary education in the Mansfield Independent School District in Mansfield, Texas.
@kcobb30