Pandemic-Learned Measures for Engaging Families
Topics:
Communications & Public Relations, Curriculum & Assessment, District & School Operations, Equity, School Administrator Magazine, Technology & AI
August 01, 2021
In a quest for relevance, regional accrediting bodies move away from counting school library books to plotting paths for continuous growth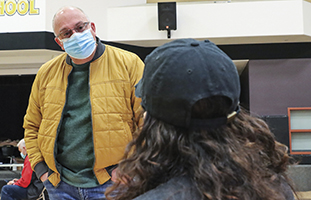 The last 18 months in public education have been nothing short of unprecedented. In spite of the infusion of marked federal stimulus funding and significant vaccination rates, numerous challenges will compel new and creative solutions in our educational system. The impact of the COVID-19 pandemic, coupled with the wide variation in economic and health conditions nationwide, has prompted ongoing concerns related to opening a new school year.

For school communities fortunate enough to be safe and secure, access to devices and reliable internet have been a continued area of emphasis. By this fall, schools had shifted from fully remote to hybrid to in-person and then cycled back into different options given local conditions and parental demands. The magnitude of the challenges cannot be overstated. As such, it is not difficult to imagine families considering other options for school-age children during these volatile times.

From pandemic pods to homeschooling to gap years, attracting and retaining families has been a unique challenge during the pandemic. Student enrollment has declined at record levels, particularly among the youngest learners, as evidenced in California where the 2020-21 year ended with a 3 percent reduction in total enrollment — a full third of which consisted of missing kindergartners.

Montgomery County, Md., one of the nation's biggest school districts, experienced a drop in pre-kindergarten and kindergarten enrollment last fall, contributing to the loss of about 4,700 students, or nearly 3 percent of district enrollment.

A recent report by the U.S. Census Bureau found homeschooling rates doubled during the pandemic. According to some surveys, as many as a third of families indicate they intend to continue with remote learning.

Finding ways to connect, engage and inspire our students, while reassuring our families, is the best path forward for public school leaders. Coming out of pandemic-fueled uncertainty and volatility, how can school district leaders and principals strengthen connectedness with families to best attract, retain and serve students?
Authors
Lisa Gonzales & Devin Vodicka
Authors
Lisa Gonzales is chief business officer for Mt. Diablo Unified School District in Concord, Calif.
Devin Vodicka, a former superintendent, is chief executive officer for Learner-Centered Collaborative in San Francisco, Calif., and author of Learner-Centered Leadership.
Expanding Tech Support to Include Families
Most school systems have established systems to generate informational technology "tickets" to support staff members when they experience challenges with hardware, software or network connectivity.

In the early stages of the pandemic, the 3,450-student El Segundo, Calif., Unified School District quickly adapted its approach to make it easy for families to request assistance for technology-related problems. To simplify the experience, the school district created a technology support e-mail address that served as a hub to distribute the various inquiries from parents. The executive director of education information technology, Daniel Gauna, seamlessly assigned the technology support request to the appropriate employee.

"Overnight our tech team went from interfacing with hardware and faculty to responding to countless tech support requests from parents," superintendent Melissa Moore says. "They were champions in filling an essential void caused by shifting from a classroom to home setting."

During the school year, the team of six information technology specialists fielded more than 4,800 requests from families, with the most frequent issues involving remote connections at home, device hardware problems (lack of sound or video) and log-in difficulties with various systems. Even though students gradually returned to in-person learning, the district found the dedicated tech support system to be so effective that it will be maintained in 2021-22.

El Segundo serves as a good example of a school district adapting its systems to include family support. Making small adjustments to be more inclusive now and in the future can build connections and confidence, thereby making it more likely the families will want to remain in the district.