Operating With an Entry-Year Playbook
Topics:
Communications & Public Relations, Leadership Development, School Administrator Magazine
June 01, 2022
Experiences of 29 first-year superintendents in Washington during the pandemic lends ideas for dealing with complex community-based challenges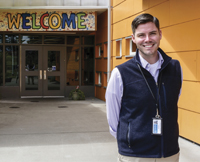 No one at the start of the COVID‑19 pandemic predicted two-plus years of intense divisiveness in school communities and frustration and anxiety among those leading public school districts. The significant consequences on superintendents' careers have been notable.

We've seen many experienced superintendents bow out before they had intended, and a major new crop of superintendents enter the role. This fall, at least 38 of Washington state's 295 school districts and intermediate educational agencies will have new individuals at the helm.

In pre-pandemic times, new superintendents could expect to enter new communities with an upbeat honeymoon period when they would learn dutifully about community history, establish relationships and unite the community toward a shared vision.

Superintendents hired during the pandemic have experienced no such honeymoon. The 29 (or more) new superintendents who started work in Washington state in 2021-22 have been navigating pandemic-caused twists and turns, leading to a whole new set of trials and errors.

These new superintendents have navigated complex challenges while trying to balance tensions over public health precautions and school operations — and doing so without any pandemic entry plan playbook. The Washington Association of School Administrators has provided training for newcomers entering a first superintendency.
Authors
James Crawford & Joel Aune
About the Authors
James Crawford, who's worked in central-office and school administration in Washington state, has collaborated with the Washington Association of School Administrators on guidance for new superintendents' entry plans during COVID-19.
Joel Aune is executive director of the Washington Association of School Administrators in Tumwater, Wash.