A Latina Pioneer Ready for AASA's Helm
Topics:
Equity, School Administrator Magazine
January 01, 2023
Member Profile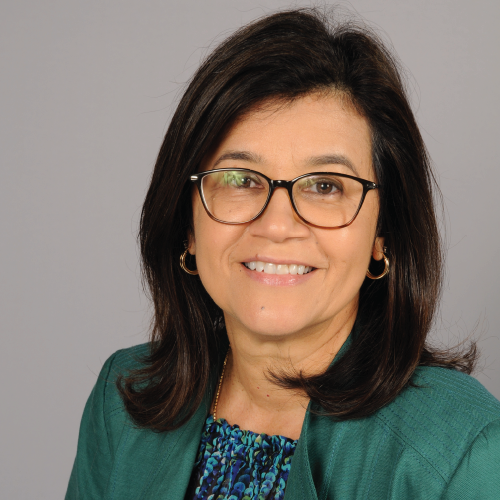 Gladys Cruz is no stranger to being the first in her position.
She was the first in her family to graduate from high school and the first to go to college. She became the first Latina educator to be appointed Board of Cooperative Educational Services, or BOCES, district superintendent in New York state. And she is now the first Latina who will serve as president in AASA's history when she assumes the post in July.
"I really think of her as a pioneer obviously setting the stage for others to follow," says Betty Rosa, commissioner of education in New York state, who is also the first Latina in her role. "When we think about the fabric of what we aspire this nation to be, this is part of the conversation, and giving voice to someone like her is phenomenal."
Overseeing 30,000 students in 22 districts as superintendent and CEO of the Questar III BOCES in Castleton, N.Y., located 10 miles south of Albany, is a far cry from where Cruz thought she was going to end up after starting on a path to become a dentist.
After each of her first three years of college, the English department chair at her high school in Puerto Rico would visit Cruz's home to offer her a job as a teacher. After the third pitch, Cruz finally agreed to an interview and never looked back.
She graduated with a degree in elementary education and English. While completing her master's degree in bilingual education, also in Puerto Rico, she saw a flyer promoting a Ph.D. program at SUNY Albany. After spending her youth shuttling between Puerto Rico and New York, Cruz jumped at the chance to "complete that circle."
Other than a short stint with the New York State Education Department, Cruz has spent the past 25 years with Questar III.
"I've had a lot of flexibility to be creative, to create programs," Cruz says. "It's an opportunity to really provide leadership in the region to impact students in the broad sense. I really love the whole regional approach and that I get to interact with a lot of folks."
Some of that creativity has resulted in Cruz being the first Questar III superintendent to open a regional STEM high school on a local college campus. Most recently, she oversaw the renovation of a 35-year-old technical education center.
Staying visible and accessible to the community and her staff is key to bringing them along during a project, Cruz says. She maintains an open-door policy.
"Staff will e-mail me directly. They'll ask to meet with me directly and I think that I've gained their trust," she says. "I try to bring people together so that we all work as a group, and we can be much more efficient and effective. I think there's a greater benefit to our students in the region when we're all speaking the same language and we're all in it together."
On the national level, Cruz convenes others as co-lead of the AASA Aspiring Superintendents Academy® for Latino and Latina Leaders. With one cohort completed and another two set to graduate this year, Cruz relishes the opportunity to encourage Latino and Latina superintendent candidates.
"I am constantly reminding myself that it's 2022 and we should have many more Latinos and people of color in key leadership roles," Cruz says. "I'm not fearful to put myself out there, and I think it's important to have individuals around you who believe in you, who kind of tap you and push you to be confident. … I've had a lot of those people in my life and I'm very fortunate."
Juli Valentine is digital content editor at AASA.
BIO STATS: GLADYS I. CRUZ
Currently: district superintendent, Questar III BOCES, Castleton, N.Y.
Previously: deputy superintendent, Questar III BOCES
Age: 60
Greatest influence on career: My dad did not have the same educational opportunities as me. He wanted to go to school, but from a young age had to work on the family farm in Puerto Rico. I realized education was my ticket out of poverty.
Best professional day: Running into graduates or parents who thank me for the influence I had on their lives or child's life.
Books at bedside: Design Thinking for School Leaders: Five Roles and Mindsets That Ignite Positive Change by Alyssa Gallagher and Kami Thordarson; and So You Want to Talk About Race by Ijeoma Oluo
Why I'm an AASA member: Having access to the best practices, latest research and other critical information impacting our work as superintendents. It is important to stay connected and engaged with our colleagues across the country.