Earmarks 101: A New Funding Opportunity for Your District
Topics:
Advocacy & Policy, Finance & Budgets
December 06, 2022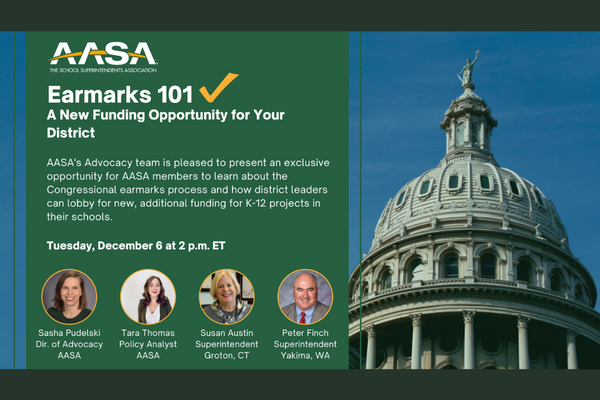 AASA's Advocacy team is pleased to present an exclusive opportunity for AASA members to learn about the Congressional earmarks process and how district leaders can lobby for new, additional funding for PK-12 projects in their schools.
Although "earmarks" have a bad reputation, they can be an opportunity to get funding for small projects that typically struggle to obtain federal support. Back after a decade, these funds are allocated by Members of Congress and provide one-time grants ranging from $100,000 to $3 million or more.
In this webinar, we will walk through the mechanics of how to submit a request; and discuss how to choose the right project and the importance of building community support. We will also be joined by two superintendents who received earmarks in FY22 to share their experience in navigating the process.
PRESENTERS
Sasha Pudelski, director of advocacy, AASA
Tara Thomas, policy analyst, AASA
Susan Austin, superintendent, Groton, Conn.
Peter Finch, superintendent, WVSD208, Yakima, Wash.