Defining a Better Future in the Navajo Way
Topics:
Equity, Leadership Development, Rural Communities, School Administrator Magazine
May 01, 2022
Profile: QUINCY NATAY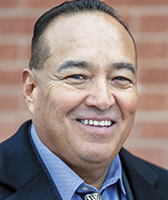 When Quincy Natay graduated from Arizona's Chinle Unified School District, he planned to get a business degree at college and become a business owner. He did not expect to return to the district as a teacher and then work his way up to be the superintendent of the 3,400-student district.

"I'm happy with the direction my career has taken," says Natay, who has been the superintendent for the past eight of his 32 years in Chinle, located in the northeast corner of the state, in the heart of the Navajo Nation. "I'm very proud of what we were able to accomplish in this community."

One of the big things he undertook was a complete overhaul of the district's strategic plan, including implementation of a new curriculum and a districtwide culture shift, at the start of his superintendency. A finalist for the 2022 AASA National Superintendent of the Year® award, Natay admits the curriculum overhaul was the easier to tackle.

After accompanying a team of staff to another district to observe its curriculum, he encouraged his colleagues to become the "marketers in the (Chinle) buildings. That's why it became easy because it became their product," he says.

Bringing the community on board took a different approach. Natay, born and raised in Chinle, turned to the Diné philosophy, or Navajo way of life, which asks its people to think about what they want to accomplish each day, make a plan to achieve that goal, enact the plan and then reflect on their success.

"Making that connection with the strategic plan created that flywheel effect of stakeholders understanding and getting on board," Natay says, referring to a concept espoused by best-selling author Jim Collins. "Now, we believe in high expectations, so we know that our kids deserve a quality education. We know education is the pathway to success, to improve your quality of life."

Sheila Betz, federal programs director in Chinle, says changing mindsets has been one of Natay's biggest accomplishments.

"That work that he led us through in the beginning would become really important when he started setting high expectations for students because, when he came in, there was very much a culture of status quo," Betz says. "When we began seeing grade levels performing at the state average, the mind shift changed and stakeholders, teachers, students, parents, people here know that these kids can do it."

Spurred partly by his own experience as a student-athlete in Chinle, Natay has focused on upgrading academic and athletic facilities in the district, where 94 percent of the students qualify for free or reduced-price lunch.

"When I have the opportunity to make a difference in little things like that, I already have the drive because I saw it as a student firsthand that our kids deserve the best facilities and the best equipment," Natay says.

After working for 12 bosses during his 23 years as an assistant superintendent, Natay believes he is the longest-tenured superintendent in the district's history. He hopes the next superintendent follows in his footsteps.

"Of the 200 graduates that we graduate every year, I hope and pray that 20 come home and help our community in any form — whether they're an entrepreneur, a teacher or whether they take my job at some point," Natay says. "I really love where I grew up so I want to make a difference in my own community and help as many students as we can to be successful citizens when they graduate high school."
BIO STATS: QUINCY NATAY
CURRENTLY: superintendent, Chinle Unified School District 24, Chinle, Ariz.

PREVIOUSLY: assistant superintendent for business, Chinle

AGE: 56

GREATEST INFLUENCE ON CAREER: Growing up in a home where poverty, hunger and neglect were not strangers, I had several really great teachers who believed in me and motivated me to work up to my potential.

BEST PROFESSIONAL DAY:"You have changed all of our lives and education." This was a comment from a 5th-grader — one of more than 100 letters I received from children in our schools about my Arizona Superintendent of the Year award. "Continue to be Competitive, Unique, Successful and Driven, Mr. Natay," a 4th grader wrote, quoting part of our vision statement. The day I read these made it hit home that my work truly is making a difference.

BOOKS AT BEDSIDE: Transforming School Cultureby Anthony Muhammad; Canyon Dreams by Michael Powell; The Resilience Breakthrough by Christian Moore; and Good to Great by Jim Collins

WHY I'M AN AASA MEMBER: The strong position of advocacy AASA takes for public education. Building on the words of the visionary Navajo Chief Manuelito, it is the ladder we must climb to achieve a brighter future for our children.
The strong position of advocacy AASA takes for public education. Building on the words of the visionary Navajo Chief Manuelito, it is the ladder we must climb to achieve a brighter future for our children.

Quincy Natay