Case Study: The River Valley School District (Pa.)
Topics:
College- Career- and Life-Readiness, Curriculum & Assessment
January 01, 2023
How one AASA Learning 2025 Demonstration System is creating a future-driven school district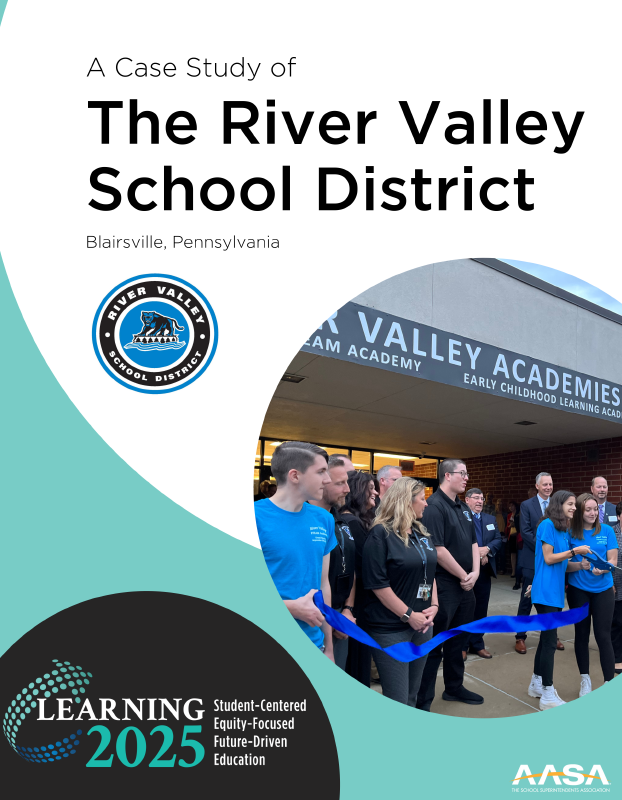 AASA Learning 2025 Demonstration Systems are creating student-centered, equity­-focused, and future-driven educational systems that serve ALL learners. This initiative is based on recurrent core redesign components, including:
Culture: Systems redesign must occur within an intentional and relationships-based culture that is Whole Learner Focused; dedicated to ensuring that No Learner Is Marginalized; and Future Driven, anticipating forthcoming changes in post-secondary and career landscapes to inform all decisions today.
Social, Emotional, & Cognitive Growth: Educational systems must address the strengths and needs of the Whole Learner, including physical, social, emotional, and cognitive development as a holistic component of educational transformation; and
Resources: Every learner must succeed and have equitable access to the educational resources and support services necessary to ensure their success.
This case study focuses on the River Valley School District (RVSD), a rural school district located approximately 45 miles east of Pittsburgh, Pennsylvania. As this case study will confirm, this school district clearly reflects the vision and design principles of AASA Learning 2025, including the incorporation of key redesign principles that characterize a future-driven organizational culture.
RVSD recognizes that to prepare students for an increasingly complex and uncertain world, education must be future-driven and committed to creating and sustaining authentic learning environments, challenging the status quo, and requiring all stakeholders to take risks and embrace change.
This case study will provide the reader with information to inspire, create, and adapt learning environments to meet the needs of today's students. River Valley School District (RVSD) champions future-ready learners by commanding excellence through high-quality, authentic learning environments in an inclusive and safe atmosphere.
To realize this vision, the district endorses a distinctive K-12 career framework emphasizing STEAM that provides an equitable education to all students.