Bolstering Programming and Cohorts with Ann Levett
Topics:
School Administrator Magazine
November 01, 2023
Inside AASA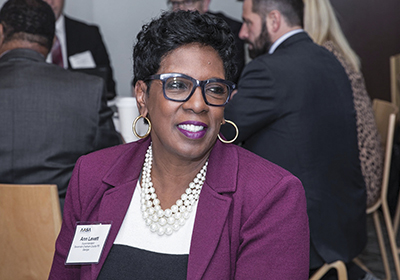 Roughly five years ago, AASA created the Leadership Network, which now provides most of the association's professional learning programs. When AASA members at the time were surveyed about what they wanted from growth opportunities, three issues surfaced consistently: more topics, more access and personalization.
Starting small with a half dozen yearlong programs, the network has seen dramatic growth under the leadership of Mort Sherman, AASA senior associate executive director since 2018. Training options now extend well beyond the annual National Conference on Education to an array of more than 30 programs, cohorts, affinity groups and academies.
To expand the capacity, Ann Levett, who served as superintendent in Savannah, Ga., for the last six years, joined AASA as assistant executive director of the Leadership Network in July (joining another former superintendent, Valerie Truesdale, on the staff). A Georgia native, Levett will oversee Leadership Network programs.
Interviews of Levett and Sherman were conducted by managing editor Liz Griffin. Their responses have been edited for length and clarity.
How do you see your role as assistant executive director of the Leadership Network?
Levett: I've been a superintendent in two districts and have worked in an urban environment and in higher education for teacher preparation. My role will be to lead and manage all aspects of the Learning 2025 initiative, lead several network programs and support professional cohorts.
What do superintendents say they need when it comes to professional learning?
Levett: Superintendents and those who aspire to the position do not always have customized professional development designed for that role. They need a big-picture perspective of skills, collaborative spaces for sharing and problem solving and a network of superintendents for support.
When you become a superintendent or executive director, you are also searching for professional learning that is evidence-based and that deals with current, relevant topics.
How does AASA fill those needs?
Levett: The Leadership Network that AASA has developed is one of the many gifts AASA provides for members. The breadth of programming and the diversity of topics would surprise most. AASA's professional learning is personalized, with offerings for urban, suburban and rural superintendents, new/aspiring and veteran leaders, leaders of color and women leaders.
Professional development no longer is intermittent and exclusively in-person with the annual conference and a few regional meetings. AASA delivers relevant, high-quality professional development to its members continuously, using in-person, virtual and hybrid formats. Monthly webinars, learning cohorts, academies, certification programs, summits, conferences and special sessions address critical current topics.
Describe the philosophy that guides the work of the Leadership Network.
Sherman: We've been committed to serving each and every one of our colleagues, rising and serving superintendents. As part of our commitment, we've learned that one model does not fit everyone.
We encourage joining our cornerstone certification and aspiring programs, and we recognize that strong affiliation or affinity groups are also essential. The creation of the Black leaders programs expands our leadership opportunities in addition to our programs for women, Latinos, urban leaders, rural leaders and large district leaders.
Sometimes the personal, professional and life experiences of affinity groups enhance the opportunity for learning. We honor individuals, wish to support their career and life goals, and work hard to meet them where they are as we continue to work toward a more perfect union.
In what ways has personal technology impacted how AASA engages members?
Levett: With the onset of the pandemic, AASA introduced or expanded the use of technology to offer online programs and now runs a number of hybrid courses, which has increased access for those with full schedules.
When you are on the receiving end of an array of offerings, it strengthens the connection to other superintendents and widens one's network for collaboration possibilities. When we're too busy to get away, it's great to listen to a recording on our schedule. We can still benefit. We can connect with presenters and attendees to follow up on discussion points.
How valuable is in-person professional learning?
Levett: What you learn at conferences is important, but who you connect with is also important for doing the job well. Initially, you may consider that the "work" is the work and the network is something separate. But the network of professionals you develop and tap into provides valuable support for the work you want/need to do.
Your involvement with AASA will help you see the value and benefits of this organization. I would occasionally call Mort, Valerie or a fellow superintendent I know and say, "I'm having this problem. What recommendations can you offer me?" They offered sage advice, connections for further assistance and options I may not have considered.
What are your plans?
Levett: Two initiatives are on my agenda. I will be involved with the Mental Health Cohort and the JED Foundation, which has raised awareness about growing mental health concerns.
School safety is another area. Superintendents have a heightened awareness of physical safety. We want to make school a place where learners and staff feel safe — physically and psychologically. Superintendents need to know how to use available resources to provide the safest environment possible for all in their charge. How should they prevent or respond to threats to school environments? What strategies have proven effective? What is a strong and effective communication process? How does the district recover after an event? n
Inside AASA is an occasional column about principal employees and priorities of the association.