Learning Alongside Others Across State Lines
Topics:
Leadership Development, Rural Communities, School Administrator Magazine
October 01, 2018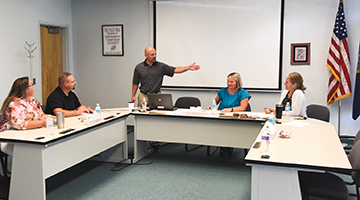 Our school district of 430 students, sitting in the southwest corner of Idaho, became a part of the NW RISE Network at its inception in spring 2014. Our involvement came at a low point for staff morale due to the hard hit the district took during the recession, which led to teacher turnover, budget cuts and program losses.

Consequently, when the chance to join NW RISE was offered, I saw the opportunity to help improve our staff and instructional outlook. The network would help provide much-needed educational resources; collaborative opportunities with other small, rural districts; and professional networking.

The NW RISE Network has been a great asset for me personally. I had been a principal for six years when we joined the network but was in my first year as a district-level administrator. The involvement helped me to improve my skills as a leader by being more proactive in motivating teachers to collaborate and to become teacher leaders in our district.


A Shared Vision
At the start of the next school year, I moved from assistant superintendent to superintendent and was able to use our early experiences in NW RISE to help steer our district vision and direction for professional collaboration, shared responsibility and educational ownership. Our desire is to provide positive educational experiences for our students.
We now have staff and students who collaborate with NW RISE schools from other states on writing projects at the high school and elementary levels. In the high school, students from Glenns Ferry work with students from Alaska, Oregon and Washington using Schoology, an online platform, to learn about one another's schools and to work on peer editing and reviewing each other's argumentative essays.
Similarly, at the elementary school level, a 2nd-grade class wrote letters and class profiles so they could learn about the geographic region of the other class. Additionally, our combined 4th/5th-grade classroom shared writing with students from Alaska and completed a collaborative STEM project with students from Oregon. Our middle school science students participated in collaborative earthquake projects with students from other states.
These are the types of experiences we wanted our students to have when we decided to join the network. We now are able to provide opportunities for our students to see the broader world, to understand how other rural schools work and to meet academic standards while sharing experiences with students from other regions.
Furthermore, as a district, we have used the NW RISE experiences from in-person convenings to guide our professional development provided to the staff as a whole. We began by providing online book studies led by a staff member that was open to all district employees. This helped build collegiality and morale. Our elementary teachers now work with our high school and middle school teachers whom they do not often see. We added continuing education opportunities for our staff by working with the College of Southern Idaho to provide credit for staff who participated in the studies, making them even more appealing.
Evolving Experiences
Once the ball was rolling, we didn't stop there. Because the book study was so successful, we reached out to a neighboring district to collaborate on the next one. Now we join up with other rural Idaho districts to replicate and supplement NW RISE convenings to give a NW RISE experience to our staff who are not able to attend.
Participating with other rural districts — whether in state or across state lines — creates a positive environment for staff to collaborate and to garner more instructional ideas and strategies. NW RISE has inspired us to move away from the "same old, same old" mentality of professional development. This conscious effort has increased teacher morale, provided more district resources and challenged our staff to create more rigorous and relevant curriculum for our students.