Aspiring Superintendents Academy® for Female Leaders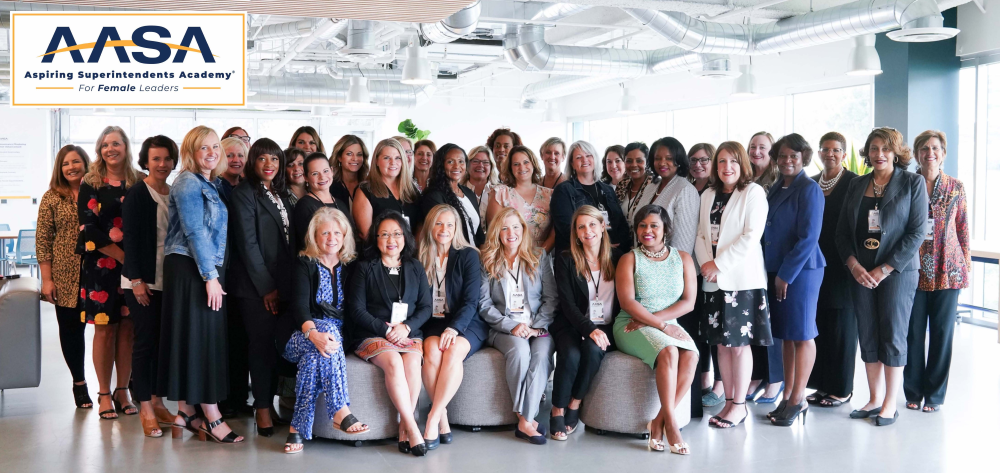 The AASA Aspiring Superintendents Academy® for Female Leaders is a powerful vehicle to put female leaders in the driver's seat of their career. The Academy brings together women who are on the path to the superintendency to build knowledge and confidence in their ability to lead. The goal of this unique opportunity is to create the time and space for learning, connection, and introspection. Directing the Academy are female superintendents with demonstrated expertise leading innovative school districts with a record of improving learning for all students.
Who should apply?
Female leaders who aspire to be superintendents are encouraged to apply. Priority will be given to central office professionals and principals. Superintendents and members of district governing bodies are encouraged to nominate professionals.
Academy Dates and Details
2023-24 In-Person Meetings:
October 5 – 7, 2023 | Naples, FL
February 13-14, 2024, NCE 2024 | San Diego Calif.
June 19 -21, 2024 | Washington, DC
2023-24 Virtual Meetings:
December 13, 2023 5:00pm - 6:30pm EST
March 13, 2024 5:00pm - 6:30pm EST

Academy Themes
Nimble and Resilient Leadership for Changing Times
Leading with Vulnerability and Grace
Leading for Equity
Lead Teacher(s)
...an experience for me like nothing else in my career development...I will look back forever on my career and attribute the growth and my personal development to the things I've learned through this course.

Maggie Fehrman
Details
October 5, 2023 to June 21, 2024
See Academy Dates and Details section for additional information, Applications were due by September 20, 2023.
$4,500
Member Price
$4,800
Non-Member Price
Not a member? Join today.
Apply Today!
Contact
Valerie Truesdale

Senior Assistant Executive Director, Leadership Network

AASA, The School Superintendents Association

703-875-0734
Learn About AASA's National Women's Leadership Consortium!
The National Women's Leadership Consortium brings together superintendents, other school district leaders and/or corporate or nonprofit leaders who are innovators and risk-takers in the field of leadership.
The Leadership Network Advantage
Premier professional learning for educational leaders at any stage of their careers.
No matter where you are in your leadership journey, AASA's Leadership Network programs help you grow and thrive to support you in meeting the needs of your school community!