Innovative Districts Empowering All Learners (IDEAL) Cohort
Creating dynamic learning environments.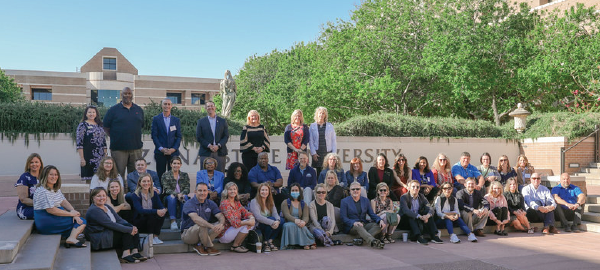 AASA's Innovative Districts Empowering All Learners (IDEAL) Cohort works collaboratively to research, inspire, empower, and amplify educators' work to create student-centered, future leaning, equity focused education. The IDEAL Cohort seeks to provide a deeper understanding of what learners need to create the most dynamic learning environment possible. Members of the IDEAL Cohort work to realize a new vision for empowering all learners and share examples of the most outstanding practices for personalizing and individualizing learning.
The Cohort will work to overcome organizational barriers and create a sustainable network supporting ownership of learning for all members of the learning community.
Essential Questions
What examples of outstanding practices have we identified in the work to transform learning to ensure a student-centered, future focused education for ALL learners?
What learnings can we share about creating a dynamic learning environment in our districts where students become co-authors of their learning?
How is equity being addressed as the foundation for all components of student- centered learning?
How are we building a culture and systems that remove barriers so all learners can thrive?
How are we transforming the educational system to support student learning for the new century?
How can we support each other as we move forward?
As learning has taken a turn to a more personalized, individualized nature, we must make the necessary adjustments to continue to provide the most dynamic, learning environments for the whole learner. AASA's Learning 2025: Student-Centered, Equity-Focused Education is an initiative that calls us to redesign our public schools. It calls for a holistic design with schools meeting the needs of the whole learner.

Who should participate?
Any district leader who is interested in furthering the work to create future-focused, student-centered education, particularly superintendents, assistant superintendents, directors of curriculum and program/building leaders.
What will I learn?
Discover the power of equity- focused, student-centered education
Explore best practices in personalization and engage in research to determine what will transform the learning environment in our nation's public districts
Work to overcome organizational barriers and to create a sustainable network supporting ownership of learning for all members of the learning community
Work collaboratively with innovative educators from across the nation – including superintendents, district administrators and topic experts – to research, inspire, empower and amplify the work to transform education
Gain a network of colleagues who are embracing building student-centered environments utilizing a personalized approach to learning in their district
Program dates and details
In-Person Meeting Dates
September 28-29, 2023 | Beginning at 8:00am ET on September 28 through noon on September 29 | Questar III, Albany, N.Y.
April 8-10, 2024 | Location TBD
IDEAL Cohort registrants receive complimentary registration to all in-person meetings. If the registered person is unable to attend, their complimentary meeting registration is transferrable to a different district team member. Additional district team guests are welcome to attend for a nominal cost.
Virtual Meeting Dates
August 30, 2023, 2:00pm - 3:30pm ET
December 6, 2023, 2:00pm - 3:30pm ET
May 8, 2024, IDEAL Celebration & Mixer 7:00pm ET
Teams are welcome to join virtual meetings.
Leads
Details
August 30, 2023 to May 8, 2024
$2,000
Member Price
$2,500
Non-Member Price
Not a member? Join today.
Register Today
Contact
Stephanie St. John

Project Coordinator, Leadership Network

AASA, The School Superintendents Association

703-875-0762
IDEAL Summit
The IDEAL Summit will take place on April 8, 2024. The Summit is open to all leaders interested in learning about best educational practices in an IDEAL school system! Registered cohort members will receive complimentary registration to attend and additional team members are welcome to register at a separate cost.
Registration opening soon!
What is the IDEAL Cohort?
2023 IDEAL Spring Cohort Meeting
Washougal School District (Wash.)
The Leadership Network Advantage
Premier professional learning for educational leaders at any stage of their careers.
No matter where you are in your leadership journey, AASA's Leadership Network programs help you grow and thrive to support you in meeting the needs of your school community!